What's ORM and why is it crucial for any brand? 
ORM or Online Reputation Management is a way for a business to proactively manage what others will find out about the company. This includes the relevant search results relating to the company, the company's reviews, and its social media presence. 
But, why should a company care? 
You see, in this day and age, a brand's online presence is really valuable. According to Moz, the first page of Google captures 71% of search traffic clicks. Another study by BrightLocal states that 85% of consumers trust online reviews as much as personal recommendations and 51% of consumers do not choose a business simply because the company doesn't have a four-star plus rating. 
So, when inevitably someone does write something negative about your brand, from bad reviews to big stories in the media, You must be prepared. 
This is where ORM comes in.
ORM is when a company actively monitors its mentions to manage any negative or false comments. Replying to negative customer reviews, negative comments on social media, negative press coverage, and so on are all part of ORM. 
So, yeah. Business is important but one must take comprehensive steps to build, maintain and protect their online reputation. 
But, what are some practical ways you can use ORM Strategies?

1. Respond Quickly
Many customers ask the company questions through DM's or social media. Reply to these right away! You can prevent frustrated customers from going public with their issues with a timely response. 
Another equally important part of the equation is to respond with empathy. The company's response should let the customers know that the company is invested in their issue and wants to ultimately help.

2. Don't ignore negative comments! Address them directly 
It may seem tempting to ignore negative reviews but you must address them directly before they go out of hand. For example: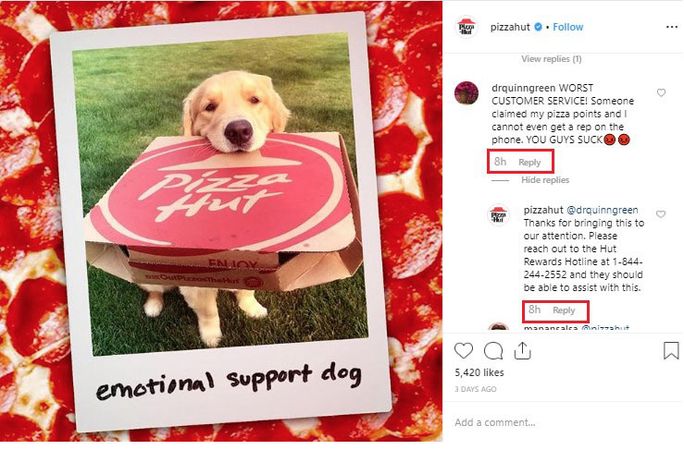 In the above example, we can see Pizza Hut addressing the concerns of the customer instantly. By giving the customer an avenue to fix their problem 
Not replying to negative comments can lead to speculation about the company and more people agreeing with the comment. This can be contained if addressed swiftly with a positive response.
3. Stay on top of the company's search results
SEO can be used to increase your company's visibility as well as minimize the visibility of negative articles and press. When someone searches your company's name, the top results should be directly related to your company.
Having blog posts that rank highly on Google searches can help in doing that. Consistently publishing blog articles that provide some value to the company's relevant target audience is the goal of any blog. Every blog must have relevant keywords and must be easy to read and understand. 
Another way to do this is by encouraging customers to leave positive reviews. This improves average ratings which is what is visible to a potential customer before he checks individual reviews. 
4. Evaluate your current online reputation
Researching the company's competitors is a must! Are the competitors getting more traction? If yes, what are they doing differently? What are you doing to stand out?
After the company has a general idea, you can use various tools to assess your online reputation in detail. Tools like Mention, Google Alerts and Talkwalker Alerts will provide an accurate picture of the brand's online reputation. There are a lot of online marketing services that the company can avail for some professional advice too. 
Conclusion and Summary 
Online Reputation Management is crucial if you want to preserve and strengthen your positive image as a brand. By using the above strategies like responding quickly, being empathetic, and staying mindful of the competition, you can start to have more control over how consumers view your brand. 
Chimp&z Inc and other leading creative advertising agencies in Mumbai specialize in this. Hence, proper research about these services can take your company's online presence to the next level!