If your first instinct was to tap yes, there we go! You have your answer! If you tapped no, we're sure you have reasons, but let's dig deeper and find out the different aspects of going live on Instagram and if it helps or not.
For more than half a century, reality TV has taken the form of entertainment, to a point of releasing endless seasons like Big Boss and even watching children grow up on screen like Keeping up with the Kardashians.

Picture credits- https://www.india.com/entertainment/bigg-boss-9-contestants-which-is-the-hottest-jodi-in-the-house-622288/
What makes these reality shows such a huge hit that missing one episode gives the religious show watchers a FOMO?
Well, according to a study based in Elon University by Kayla Hammer, it explored why young women, mostly college aged, feel an interconnection to the show and why they've been following it like a cult for nearly a decade. Based on 6 interviews with fans of KUWTK, they found that these women watch it to escape reality, participate in surveillance and feel a deeper connection.
Picture Credits- https://hollywoodlife.com/feature/kardashian-family-transformations-kuwtk-photos-3562523/
The concept of going live is similar, except, they're communicating directly with you. Almost like a mass-video call session but only 1 or 2 persons speak and you text to communicate back. As humans, we're all so innately curious to know what's going on in the lives of people like our friends, favorite personalities, idols etc and escapism seems to escape no human. These innately embedded traits result into a higher engagement with people on the other side of the screen which feels like a one-on-one conversation.
Picture Credits- https://www.idownloadblog.com/2016/11/21/instagram-unveils-live-video-for-stories-vanishing-photos-and-videos-in-direct-messages/
Live sessions have turned from 'nice-to-have' to 'must-haves' as they are now an essential part of any brand/influencers social media marketing strategy. Going Live has the advantage of evoking emotions, forming a personal connection to your content, prompting viewers to keep watching and seek more information. This type of marketing is also known as Ephemeral marketing. A lot of brands/influencers now use this tactic as a tool of Instagram Marketing to engage with their viewers and maintain a relationship. Why does it work? Well, would you want to miss out on a live session by your all-time favourite Singer/Actor? Oh Hell nah! Similarly, short-lived content raises a sense of FOMO (Fear Of Missing Out) as a result of which audiences take quick action and marketers gain from it. It creates a sense of urgency and attracts immediate attention.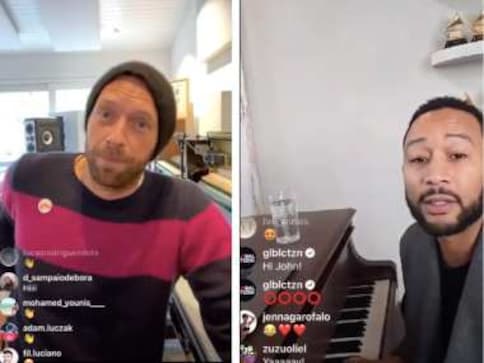 Picture credits- https://www.firstpost.com/health/coronavirus-outbreak-chris-martin-john-legend-ankur-tewari-live-stream-performances-from-home-for-fans-8163351.html
On asking a member from our jungle at Chimp&z (Social media agency in Mumbai) about the same, whether going live helps increase the followers or not (mainly referring to all our School of Chimp live sessions) here's what they said- " Hosting live sessions on Instagram, does help us gain a lot of followers. It gives a boost to the page where when an external guest shares the live session post on his/her page, their followers get attracted to our page. It also depends on the topic of the session which helps you gain a higher reach. If the topic is interesting people hit the reminder button too, which leads to good engagement during the live session. So in all there are different factors which need to be considered in order to gain a higher reach. Such interactive sessions are one way to do so."
The stats are a proof of this (Source: New York Magazine and Livestream.com):
-80% of audiences would rather watch a livestream than read a blog post
-82% of audiences would rather watch a livestream than see a social media post
-67% of audiences who watched a livestream bought a ticket to a similar event the next time it happened
According to Adweek, there are several reasons why ephemeral marketing works:
-Content that is short-lived is thought to be more authentic than sponsored ads.
-Users can access content easily.
-Ephemeral content gives your potential customers' attention, which is the most-prized commodity online today.
Picture Credits- https://www.bizcommunity.com/Article/196/669/175800.html
Since Live videos are a form of surveillance, it does come with certain limitations. They can't be edited, the quality of the video depends on the internet connection which at times can be slow and glitchy.
Overall, the pros outweigh the cons and to answer the question that we began with, yes, going live on Instagram does help to gain followers if the feature is used (not misused or overused) efficiently and strategically. And if not gain, it definitely helps to maintain the follower count.